Library Loot is a weekly event co-hosted by Claire from The Captive Reader and Sharlene from Real Life Reading that encourages bloggers to share the books they've checked out from the library. If you'd like to participate, just write up your post-feel free to steal the button-and link it using the Mr. Linky any time during the week. And of course check out what other participants are getting from their libraries.
Well, two weeks makes quite a difference, doesn't it?  My city library closed a week and a half ago but luckily I was prepared and had been stocking up for self-isolation already: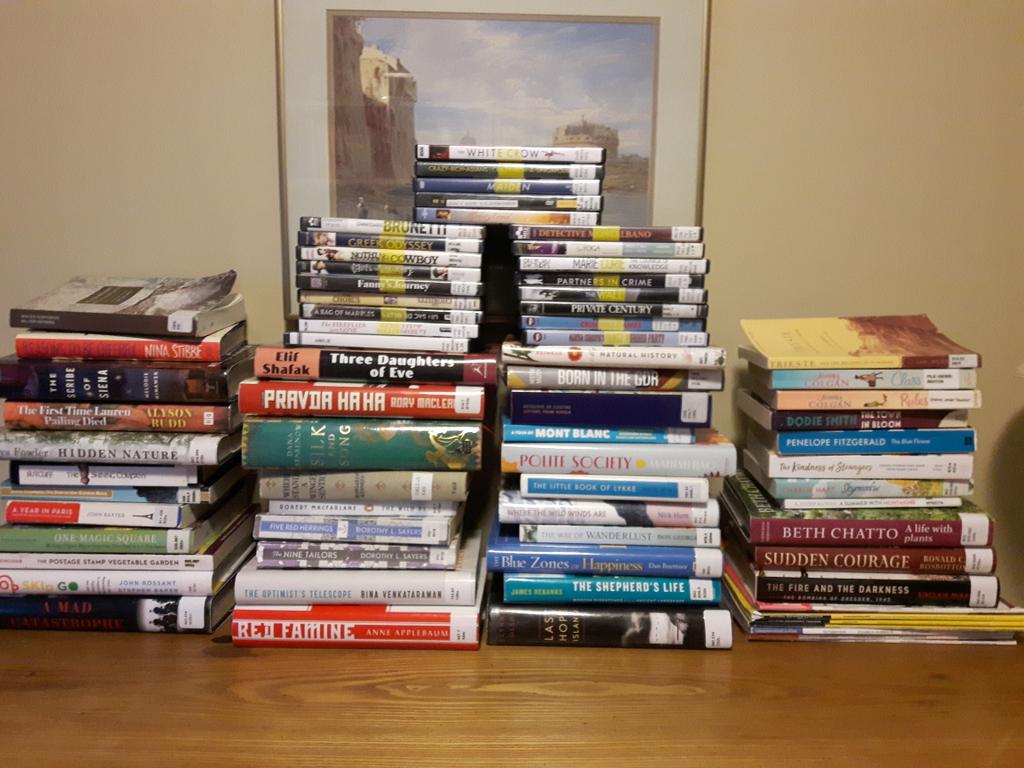 I'm anticipating these measures will last for months rather than weeks so, in the interests of having something to post about in the future, will hold off talking about my physical loot for a while. For now I thought I'd show you some of the e-books that have come in recently:
My Dark Vanessa by Kate Elizabeth Russell – If you've seen a "most anticipated books of 2020" list, no doubt this was on it.  I'm certainly intrigued. (Book Depository)
Death in Captivity by Michael Gilbert –  I'm not a big fan of crime or mystery books so have read very little from the British Library Crime Classics series but the Northern Italian setting has me intrigued for this tale.  (Book Depository)
Cutting Back by Leslie Buck – Since my travel plans for this year are being curtailed (my May trip to Czech Republic has been cancelled, no surprise.  Not terribly hopeful for my October trip to Spain at this stage either) I am resigning myself to 2020 as my year of armchair travelling.  To balance out my usually euro-centric focus, I've picked up this memoir from a woman who moved to Kyoto to learn the Japanese art of pruning. (Book Depository)
Something to Live For by Richard Roper – Now seems like the right time for an uplifting book about a lonely man finally learning to make connections.  An ironic time, but still the right time. (Book Depository)
If Morning Ever Comes by Anne Tyler – I recently sent a list of book recommendations to a friend and included a different Anne Tyler title on it, which reminded me of how good she is and how many of her books I have left to read. (Book Depository)
In Five Years by Rebecca Serle – Serle's trademark seems to be "clever" book concepts.  She had a hit with The Dinner List (which conceptually was interesting but in execution was too boring for me to finish) and continues in her newest release with a woman who wakes up five years in the future, when her life is completely different than expected.  After an hour, she wakes up back in the present time.  But what did that glimpse of the future mean for her?  (Book Depository)
What did you pick up this week?  Or check out?  Could you even physically check things out where you live (if you were not practicing responsible social distancing)?